Our house was built about 1900 and is situated next to a park area. It is built in a typical brick-style and shows the preserved charme of a historic building, warm and inviting.

Unser Haus wurde Anfang des 20. Jahrhunderts gebaut und war Teil einer parkartigen Anlage. Hierbei wurde das Haus ursprünglich vom Gärtner des Parks bewohnt. Es handelt sich um eine typische Bauweise aus Backstein, wobei das Haus glücklicherweise von drastischen Umbauten verschont wurde und so den Charme und die Würde eines alten Gebäudes verströmt.


IN FRONT OF THE HOUSE - DER EINGANGSBEREICH


THE ENTRANCE - DIE DIELE

Neuer Absatz

We are glad to have a big kitchen, also used as dining room, that is a very comfortable place in the house. You can go directly in to the garden from here which makes taking meals in the garden easier. The kitchen is well- equipped with a gasoven and a circulating-air and Microwave-oven, kitchen machine, frier, toaster, Coffee- and Espressomachine, Watercooker and cattle and plenty more of helpful equipment.

Wir schätzen unsere große Küche, die auch als Esszimmer dient, als einen sehr gemütlichen Raum. Besonders schön ist auch der direkte Zugang zum Garten, der im Sommer das Essen im Garten erleichtert. Die Ausstattung umfaßt Gasherd mit Elektrobackofen, Umluftbackofen mit Grill und Mikro- welle, Küchenmaschinen, Friteuse, Toaster, Kaffee- und Espressomaschine, Wasserkocher und diverse andere Küchengerätschaften.

The living room downstairs contains a large sofa, also usable as double bed, and an easy chair, where you can watch tv or sit and relax reading or listning to music. Therefore you find here the downstairs tv-set (satelite) with dvd and vhs and the hifi-set. The piano is here as well. You can also plug in your laptop to our router here if necessary.

Im Wohnzimmer ist ein großes Sofa, sowie ein Sessel als Sitzgelegenheiten. Hier steht auch das Klavier und ein Fernseher mit DVD, VHS, Hifi-Anlage. Auch der Router zum Anschluß eines Laptops ist hier, wenn erforderlich.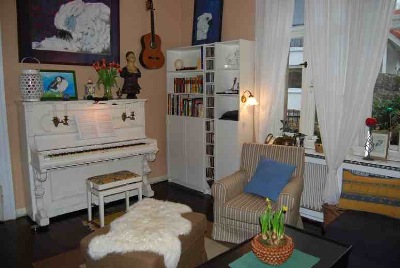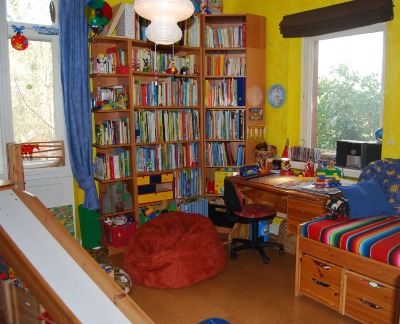 This is one of two sleeping rooms for children downstairs. Our two younger boys Georg and Oskar sleep here in their bunk bed (for one person) and a single bed. Lots of books, toys and games.

Eines von zwei Kinderzimmern im Erdgeschoß, in dem unsere zwei Jungen Georg & Oskar schlafen. Ein Hochbett (für eine Person) und ein Einzelbett. Dazu viele Bücher, Spielsachen und Spiele.


NURSERY - KINDERZIMMER
Kinderzimmer 2

This is the second children room downstairs in which our daughter Lili lives. There is one single bed, Hifi and other things our teenaged daughter needs to be happy...

Dies ist das zweite Kinderzimmer, in dem unsere Tochter Lili residiert. Es gibt einen Schlafplatz hier, Hifi und andere wichtige Dinge für das Glück unserer Teenager Tochter ...



THE BATH ROOM - DAS BADEZIMMER


THE UPPER FLOOR - PARENTS AREA
DAS OBERGESCHOSS FÜR DIE ELTERN

The Parents king-size bed:
Das elterliche Doppelbett.


room views of the upstairs living room which is designed as one big room containing two sofas, one armchair, a billard-table, tv-set (DVD & VHS) and hifi-set (the lion head is made of plush). There is a small study as well with computer, internet and a guest-sofa.

Raumansichten des Obergeschosses, das als zweites Wohnzimmer das gesamte Obergeschoss einnimmt. 2 Sofas, ein Sessel, ein Billard-Tisch, TV und Hifi sind hier (der Löwenkopf an der Wand ist natürlich nur aus Plüsch...). Hier ist auch unser kleines Arbeitszimmer mit Computer, Internetzugang und einem Gästesofa.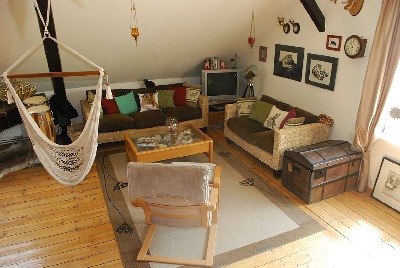 Neuer Absatz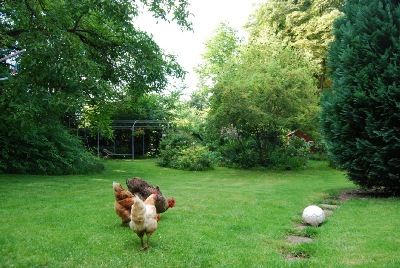 A place to sit and eat - Ein Sitz- und Essplatz


Relaxation in the hammock
Entspannung in der Hängematte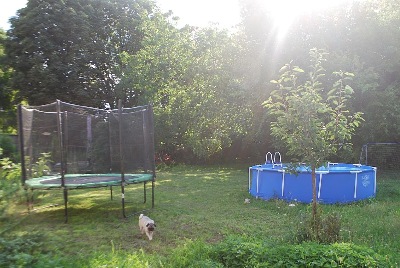 The fire place with grill - Der Grillplatz mit Schwenkgrill


Our Tom Cat Mickey will give you a warm welcome
Unser Kater Mickey wird Euch freundlich empfangen

Lucy, our catfriendly Pug, is usually accompanying us on our trips if possible
Lucy, unseren katzenfreundlichen Mops, nehmen wir gerne mit auf Reisen wenn möglich